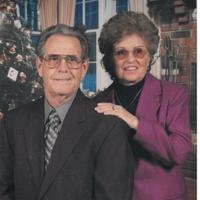 William Bain Jr | Obituary
FLORENCE — William Calvin Bain Jr., 85, Florence, died Feb. 14, 2022 at Florence Nursing and Rehab. Mr. Bain was born on May 26, 1936 in Alcorn County, MS. He graduated from Sheffield High School. He served in the United States Navy and was later employed at Reynolds as a steelworker where he retired in 1998.
Mr. Bain was a jack of all trades, enjoyed working in his garden, loved gardening, fishing and hunting. He was a member of his local coon hunters club. If it was to listen to a dog run, it was there.
A funeral service will be held on Saturday February 19, 2022 at 2 p.m. at Greenview Memorial Park.
Mr. Bain was predeceased by his parents, William Calvin Bain, Sr. and Nora Hanna Bain; siblings, Stella, Dewey, Allene, Annie, Louise, Billie, Betty, Tom, Margaret, Helen and Bennie; granddaughter, Katlynn Nicole Clemons.
He is survived by his wife of 57 years, Alice Bromley Bain; daughters, Kim (Stephen) Richey, Rhonda (Steve) Hill, Nora Elizabeth Bain; grandchildren, Shayla Clemons Green, Joshua Bain Hill, Jonathan Ray (Keeley) Hill, Jaret Scott Hill; great-grandson, Bentley Jacob Green.
The bearers will be Steve Hill, Jon Hill, Jaret Hill, Josh Hill, Jeff Cannon and Stephen Richey.
In lieu of flowers, the family requests that donations be made to the Cystic Fibrosis Foundation.
An online guest book can be signed on greenviewmemorial.com.