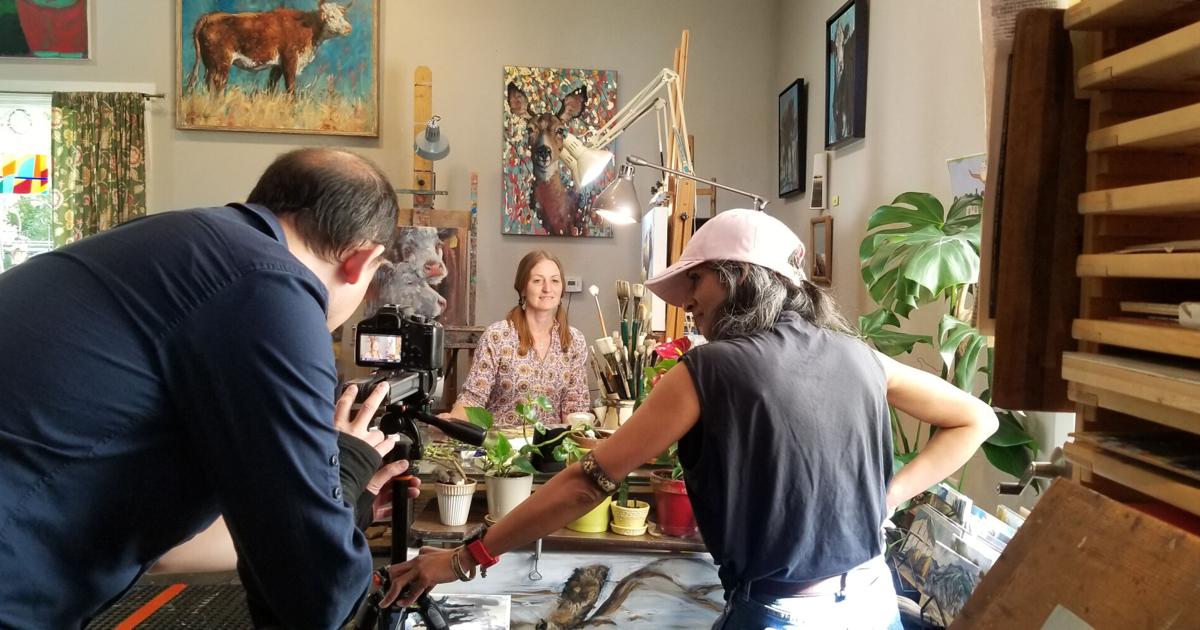 TV episode gives a taste of the city's varied art scene | Local News
SHERIDAN — Early in his career as an artist, Arin Waddell received advice from his father.
"My dad always said, 'You have to be in New York' because that's where the culture is," Waddell said. "But that's just not true anymore. I lived in big cities in New York, California and Texas, and they were amazing. But there are a lot of good things being done here too. I think it's really important for people to know that it's possible to make art in Wyoming too.
This message is sent loud and clear courtesy of "The History of Art in America," a docuseries dedicated to exploring the role of art in American society. Each episode features a different community spanning from Everett, Washington, to Santa Fe, New Mexico. And the seventh episode of the series focuses on Sheridan and the wide range of artists who inhabit it.
"Sheridan is just one of those places that seems to foster artistic inspiration," said Aaron Odom of Trident Theatre, who featured in the episode. "I don't really know why – it's one of those great Sheridan mysteries. Why did Hemingway come here? Why did Steinbeck write here? It's one of those indescribable qualities of this place, and it's a very rich tradition in this city that deserves to be celebrated.
The episode, now streaming on Amazon Prime and Tubi, was co-produced and funded by Sheridan County Travel and Tourism. SCTT executive director Shawn Parker said his goal with the episode was "to expose our local art scene to the world".
"Some of our local artists are already world famous," Parker said. "(For example,) Jim Jackson is a household name in the world of leather craftsmanship. Yet there are others here who deserve wider recognition for their work and contributions to Sheridan's artistic culture. .
After producer Pierre Gervois expressed interest in a Sheridan-centric episode, Parker garnered input from a number of local arts organizations – including the Brinton Museum, SAGE Community Arts, WYO Performing Arts and Education Center and the Whitney Center for the Arts – when developing a list of artists to feature.
Based on interest and availability, he narrowed that list down to six artists from all corners of the local art scene. Painters Waddell, Sonja Caywood and David McDougall are featured in the half-hour episode, as are Jackson, Odom and metalworker and jeweler Stefanie Wilkerson.
"What each of the artists we selected has in common is that they are extremely respected in their field, and also extremely talented," Parker said.
For McDougall, participating in the episode was an easy decision.
"You get an international view on Amazon Prime," McDougall said. "Who wouldn't want that? You get to be seen and noticed on a whole new level. It was just a privilege to be on this show. I really tip my hat to Shawn and his team who have really done a lot for the artists in this community.
"Any time you're an artist — whether you're a painter, a poet, or a musician — that kind of recognition is very valuable because it gives us feedback," Jackson said. "When you spend long hours doing your job, it's always nice when someone finds value in it. It makes me want to continue. »
Gervois, director Christelle Bois and the film crew visited Sheridan last year and spent several hours interviewing each subject and filming their studios and creative spaces. While those hours of footage were whittled down to a few-minute segments on each artist, the artists said they felt the episode conveyed what makes their art — and the Sheridan County community — so special.
"I think the show has done a great job of showing that even though it's a small western town, there's a lot of skills and talent and inspiration to be had," Wilkerson said. "You don't have to be in a big city to have this artistic culture. Sheridan is small but mighty.
"This area has a long history of hosting (or vacationing) writers, musicians, leatherworkers, comedians, artists and artisans," Caywood said. "It's a huge blessing to live in a place where, as an artist, I'm surrounded by both my subject and beautiful places to hang my finished paintings…I hope I've conveyed how much I I feel so blessed to be able to live this creative lifestyle, do what I've always dreamed of, in this beautiful place.
Some of the featured artists have already garnered increased interest in their work since the episode was released in mid-February.
McDougall sold a painting featured in the episode to a California couple who fell in love with it after watching the series.
Waddell was contacted by her artist friends across the country, who were thrilled to hear what she had done in Sheridan.
Parker said those kinds of connections were exactly what he hoped to make throughout the episode.
"The response has been great," Parker said. "We heard from people across the country saying they had no idea the Sheridan County art scene was so vibrant…Overall, the project did exactly what we hoped it would do.