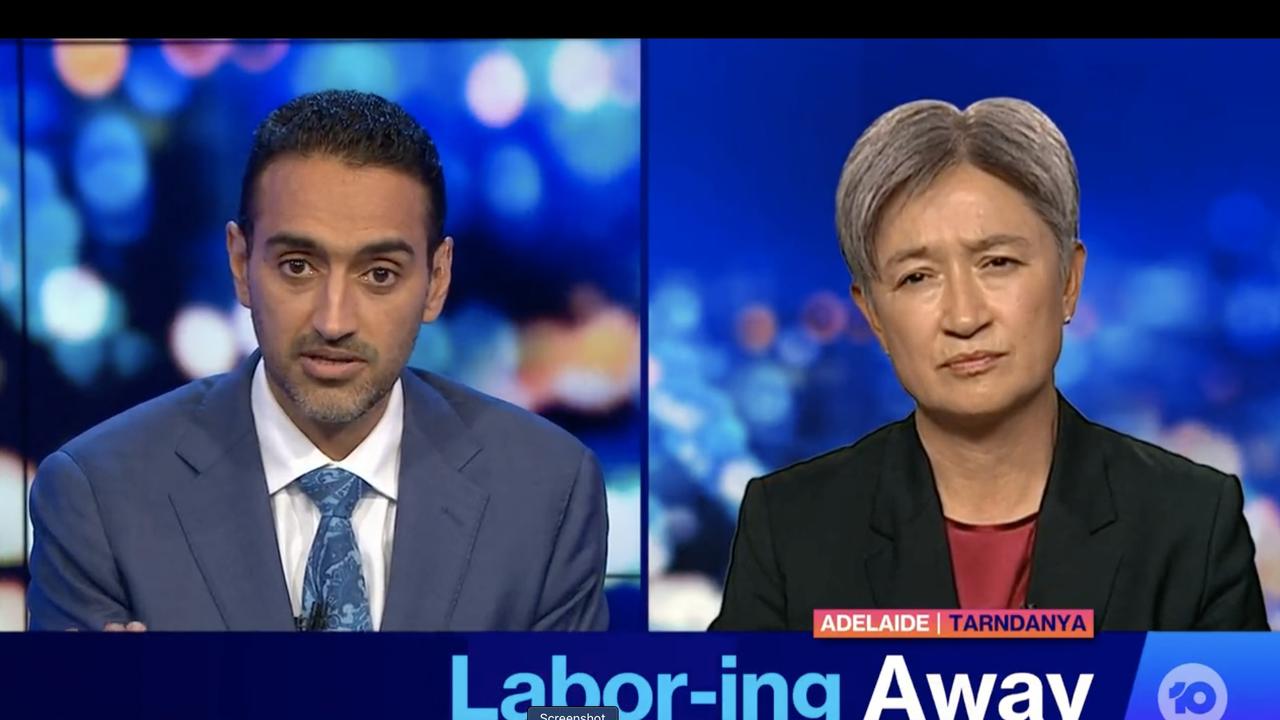 The Project: Waleed Aly interviews Penny Wong on JobSeeker
Waleed Aly locked horns with Labor's Penny Wong over the party's stance on JobSeeker payments.
Waleed Aly locked horns with Labor's Penny Wong over the party's stance on JobSeeker payments.
The Labor Party confirmed this week that it would go to the federal election with a policy that would keep the JobSeeker payment at $640 a fortnight for a single person with no children.
This position is identical to the Coalition's policy on unemployment benefits.
The project host quizzed Ms Wong on why Labor has refused to increase payments, despite continued criticism from the Morrison government for its lack of support for some of the most vulnerable Australians during the pandemic.
"Now, even though the cost of living seems to continue to rise, you've retreated to a position that you have no intention of raising it. Why?" Ali asked.
Ms Wong said that, if elected, Labor would have to be able to pay all of its campaign promises and admitted that unemployment benefits would be liquidated. She acknowledged that many of those on allowances were "doing things hard", but said the party had to make "tough choices".
"The government that has to make sure we pay for all the promises we make," she said. "We have to make tough decisions and we have to be able to fund the policies we announce.
"I sympathize with them and with others on fixed income because it's quite difficult. I understand that. I think we all understand that. We won't, none of us could live, you know, JobSeeker.
"We would all spend more per day than people on JobSeeker. So I recognize that. At the end of the day, in government, you have to make those choices.
Aly then pressed Ms Wong on Labor's support for the government's tax legislation. Ms Wong responded by saying the party was doing everything it could to reduce the cost of living elsewhere.
"It affects a whole range of income levels. We say we will put in place a policy that will reduce energy costs," she said.
"We will put in place a policy that will reduce childcare costs. We also say that we will put in place a policy that will introduce more social and affordable housing. So we are very clear that there are things that can be done regarding the cost of living.
"We are focusing on that. I understand that people are disappointed, but on this subject, we have clearly expressed our position.
St Vincent de Paul Society National President Claire Victory said the decision was both 'cruel and unnecessary', criticizing the two-party system for failing to offer countless Australians an alternative option to vote in elections. next federal election.
According to Ms Vincent, meager support payments still keep millions of Australians below the poverty line.
The charity says the decision by the two main parties not to increase fortnightly payments will continue to have a devastating effect on the poorest Australians.
Several million people have been forced to completely rethink their future after crippling Covid-19 restrictions crippled countless industries.
The constant redefinition of what was legal to stay open throughout the pandemic has left more Australians under financial pressure and therefore dependent on government assistance than ever before.
"It is hugely disappointing that voters in this election are unable to choose a party in government that wants to boost Australia's brutally low job-seeking rate," Ms Victory said.
"It is simply immoral for a nation as wealthy as Australia to allow millions of people to languish below the poverty line.
"We are constantly told that increasing the job search rate would be a deterrent to work, but the research does not confirm this and in my decades of engagement with people experiencing poverty, I do not 've still found no one able to work, but chooses to stay on JobSeeker. It's clear that JobSeeker's current rate is actually designed to punish people."
Economic experts remained cautious about the government raising the national debt after more than two years of supporting the same economy it chose to put the pauses on.
However, St Vincent's believe more should be done for those still looking for work after the last 25 months of lockdowns and border restrictions that have stifled day-to-day business.
Ms Victory insisted that there are ways to boost JobSeeker without affecting the bottom line of the budget.
Recent modeling by the ANU Center for Social Research and Methods, commissioned by the St Vincent de Paul Societyfound that a JobSeeker increase of $150 a fortnight, as well as a 50% increase in Commonwealth Rent Assistance, could be "easily paid for through minor tax changes that would only marginally affect incomes the highest".
"This research shows that there is no justification for being so brutal with people who cannot find enough work," Ms Victory continued.
"While acknowledging the need to be cautious about rising national debt, there are many ways Australia could fund a JobSeeker boost that lifts beneficiaries out of poverty and restores their dignity, without affect the budget result.
"There is abundant wealth in this country to fund increased incomes for those who need it most desperately. The fact that neither party has the political courage to advocate for such a change is deeply disappointing.
However, while many seem to welcome an increase in JobSeeker payouts, some have spoken out against the program, saying that thousands of people on the program are barely looking for work.
Superior People Recruitment director Graham Wynn claimed an alarming 900,000 Australian job seekers were sending fake CVs, with some displaying only the candidate's name.
Speaking to 2GB's Ben Fordham a fortnight ago, Mr Wynn said several people had deliberately sent poorly prepared CVs with false details to avoid getting jobs.
Mr Wynn said he had onboarded more than 2,000 people who had sent in lazy responses in the past two months via a new register introduced in February.
Mr Fordham described those who sent in fake CVs as 'bludgers', while Mr Wynn went on to explain why he believed 'one in five people' 'shouldn't be on benefits'.
He said one woman openly admitted she was working 'two cash jobs and only fulfilling my Centrelink requirements, sorry to waste your time'. According to Mr. Wynn, some candidates apply for jobs such as senior sheet metal worker and show that they have previously only worked in retail stores.
"Those on Centrelink who have recent relevant experience… about half of them don't show up for the interview. It's a bigger problem than people think," he said.
He also noted that some recruitment agencies claim to submit applications to companies for which candidates are not qualified in order to "boost their confidence".
Mr Wynn said he had been receiving these types of CVs for "many years", but noticed a "dramatic increase" since Covid-19 restrictions forced hundreds of thousands of Australians out of their jobs.
He also noted that Centrelink's system only requires the recipient to enter the name of the company they applied to.
"We'll ask the same person to apply for 20 jobs we advertise, none of which suit them, and they'll get their money's worth," he said.
Read related topics:
Penny Wang