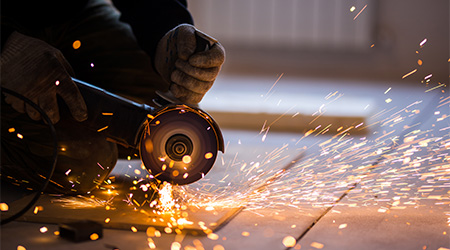 Power tool technology continues to improve
Manufacturers continue to focus on battery performance, sustainability efforts and safety.
Improvements in power tool technology in a number of key areas – battery/cordless technology, sustainability efforts, safety and ergonomics, and dust mitigation, among others – are contributing to make already highly skilled workers better and more efficient than ever.
Power tools continue to be manufactured with improved performance, safety and ease of use. The reason for this trend is obvious: manufacturers across the country, almost without exception, are determined to innovate.
In early January, for example, the Hilti Group launched a new cordless battery platform that provides tools, technology, software and services to the commercial construction industry. The launch opens the door to technology that brings data to maintenance and engineering managers, enabling traditionally wired or gas-powered applications on a single platform.
Battery technology has "come a long way over the years and made leaps and bounds with the introduction of lithium-ion battery cells which were a huge leap forward from the standard Ni-Cad battery cells of industry," says Elise Driscoll of Techtronic Industries. , which includes the RYOBI and RIDGID brands. "Lithium-ion batteries provide fade-free power, allowing users to get the most out of their tool during use."
A host of improvements
In various areas, manufacturers are making strides to improve their power tools and the way they are used. For example:
Durability: Manufacturers across the country continue to strengthen their sustainability efforts.
"We help our customers collect end-of-life batteries and ensure that they are then properly recycled to avoid sending them to landfill," says Robert Chetelat, senior cordless product manager at Hilti.
Security: To make power tools easier and more comfortable to use, manufacturers have introduced models with ergonomic improvements. These can include user-friendly controls, easier accessory changes, comfortable grips, lighter weights, and compact designs.
Safety and ease of use remain top of mind, as evidenced by advancements such as on-board dust reduction (DR) systems for concrete drills and active torque control (ATC). DR systems collect concrete dust containing silica for personal safety, while ATC stops the rotation of a drill when the bit gets stuck, for example on rebar in concrete. Stopping the rotation of the tools can prevent injury.
Other safety features include those that instantly stop tools such as grinders, even if the operator has not turned off the feed, if they move rapidly out of position in any direction.
"These grinders also come with SensTech," explains Chetelat. "Many users like to use grinders with permanent switches, but for safety reasons they are required to use a 'dead man' switch. SensTech offers the best of both worlds. The operator starts the tool with the interlock switch, and as long as he has his hand on the tool, it will continue to run. If they remove their hand, the tool detects it and shuts down the engine. »
Lighter or smaller tools with improved handles also improve safety and performance.
"Our tools and batteries go through a rigorous design process to ensure they always meet the needs of our end users," says Driscoll. "Safety and ergonomics go hand in hand. We critically focus on ensuring that every tool is designed to work on both accounts.
From weight and balance in hand to the operation of our battery and tool management systems, user experience is paramount when making design decisions, says Driscoll.
Brushless power tools are generally higher performance tools. Removing the brushes from the motor results in less friction. So users can waste less energy in friction and heat, and more energy is spent creating higher torque. Brushless motors also have fewer wearing parts, which extends their durability.
The relationship between brushless tools and advanced lithium-ion technology is "revolutionizing the power tool industry and redefining power and performance," says Driscoll. "With the ability to access unlimited potential in brushless tools that you couldn't reach with standard batteries, these smarter batteries deliver peak performance to tackle the toughest jobs."
Brushless tools and batteries with advanced lithium-ion battery technology mean more power and longer run time, allowing facility managers to get their jobs done faster and more efficiently. These tools will save time on the job, so users can get more done at the end of the day, Driscoll says.
"Brushless motor technology means a more durable tool that will have a longer life," she says. "Improvements to batteries as well as tools mean tools perform better, are longer lasting and have less downtime, ensuring crews are always ready for the job."
Dust Mitigation: This is another growing area. Chetelat says most tools such as drywall tools and circular and jigsaws now have a dust-repellent solution.
Cost-benefit: Performance upgrades are great, but only if they're affordable. Maintenance and engineering managers can balance benefits and additional costs through manufacturer programs that help them avoid the blow of a large purchase by spreading the costs over time. Some tools can be rented by departments to help improve cash flow and free up capital for other needs.
The future: Competing to be first to market with the next generation of better power tools and cordless technologies will always drive the industry forward.
Driscoll sees little to no slowdown in innovation in the coming years. As batteries continue to advance and brushless motor technology is optimized for more compact designs, she predicts the industry will see more power in a more compact and ergonomic design.
"We are dedicated to their end users and are constantly improving their core lines while expanding categories that have been identified as a user need," says Driscoll.
In the months and years to come, Chetelat expects the move from larger corded or cordless tools to a cordless solution will continue.
"Giving data to decision makers without change management at the user level will bring new insights; location and use of assets is just the start," he says. "Being able to bring it all together on one platform makes things simpler in the factory or facility."
Howard Riell is a freelance writer based in Hendersonville, Nevada.
---
---
---
Related Topics: