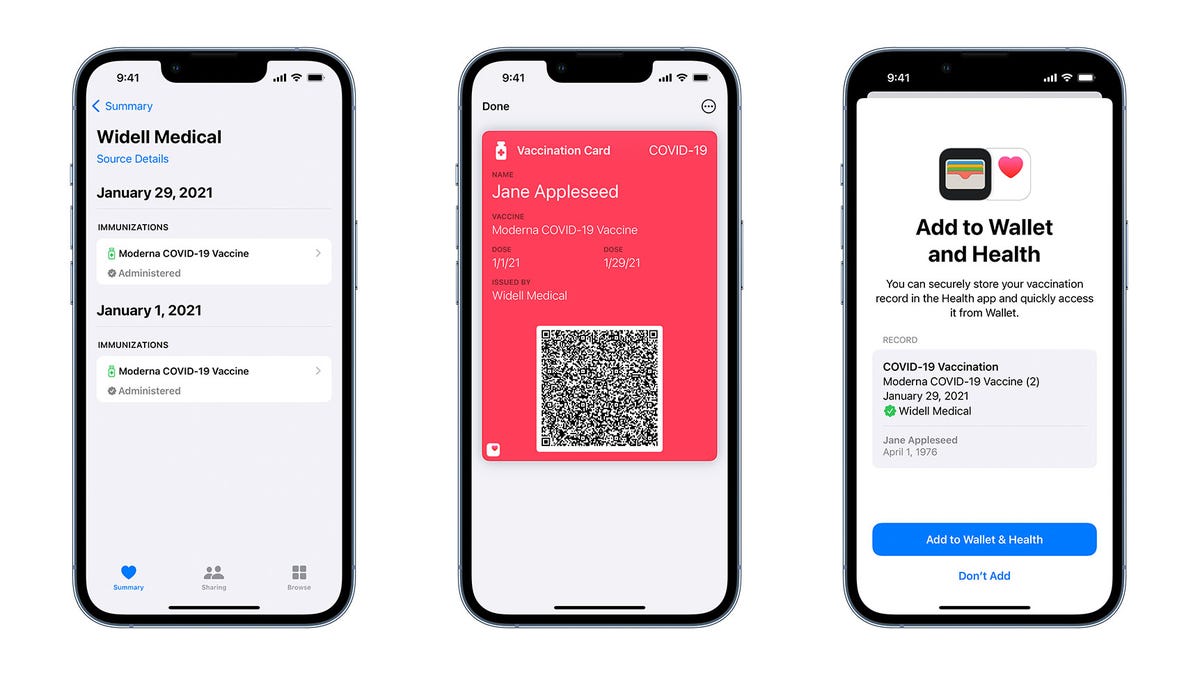 iOS 15 will add verifiable Covid-19 vaccination records to the portfolio
After installing iOS 15 on your iPhone, you will be able to Store verifiable versions of your vaccination records and covid-19 test results in the Health app. THEater this year an update to iOS 15 will also allow you to add and present a verifiable covid-19 vaccine card to your iPhone Wallet application and the lock screen.
The upcoming feature is built on the SMART Health Cards framework, an international specification focused on the issuance, transfer and verification of electronic health records. It was created in the wake of the pandemic and is being used by several states, retail pharmacies, and healthcare facilities as a means of providing verifiable vaccination records. These states include California, Louisiana, New York, Virginia, and Hawaii. Hhealthcare providers create a digital record, verify it with a private key, and then make that key available to third parties who may require that information to be entered, such as restaurants, concert halls, stadiums and cinemas.
How it currently works: A healthcare provider sends you a QR code, which you can take a screenshot or photo of, which will then generate a pop-up in the Camera app that will direct you to the Health app . From there you can import the covid-19 vaccine or the test result records in the Health app. You can also import it into the Health application via a downloadable file or via the connected health establishments.
When Apple releases a software update later this year, you'll also be able to create an immunization card in the Wallet app. Third parties, such as sites or small businesses, can then scan the information through a verification application to ensure that your records are legitimate and not tampered with or edited in Photoshop. The feature will also hide all vaccination details in the lock screen until your identity has been authenticated with Face ID, Touch ID or a password. Apple has not specified when this update will be deployed.
As always with health data, confidentiality is paramount. To this end, the The HealthKit API only allow approved third-party applications to request the information in unique cases. Apple is not part of the verification process, and developers do not have the right to sell or use this data for advertising purposes. Developers are also required to provide a privacy policy and a means for users to delete their data. Basically, Apple can't see any information about your vaccination card, how you use the card, and there is no database where Apple can access your records.
G / O Media may earn a commission
Since some States and companies now require proof of vaccination, this is a handy feature, especially if you live in a state where there isn't already an app like The New York Excelsior Pass Plus. Paper vaccination records are sometimes fragile and easily lost, and technically speaking, you shouldn't have them laminated. It also doesn't help that some people are here trying to falsify their vaccination records.
We first heard of vaccination cards possibly come to Apple Wallet in December, and WWDC 2021, Apple noted that a major update to iOS 15 would include hotel keys and driver's license to the Wallet app. TThe Health app itself has been able to store your medical records for quite some time now, and adding vaccine records is the next logical step.