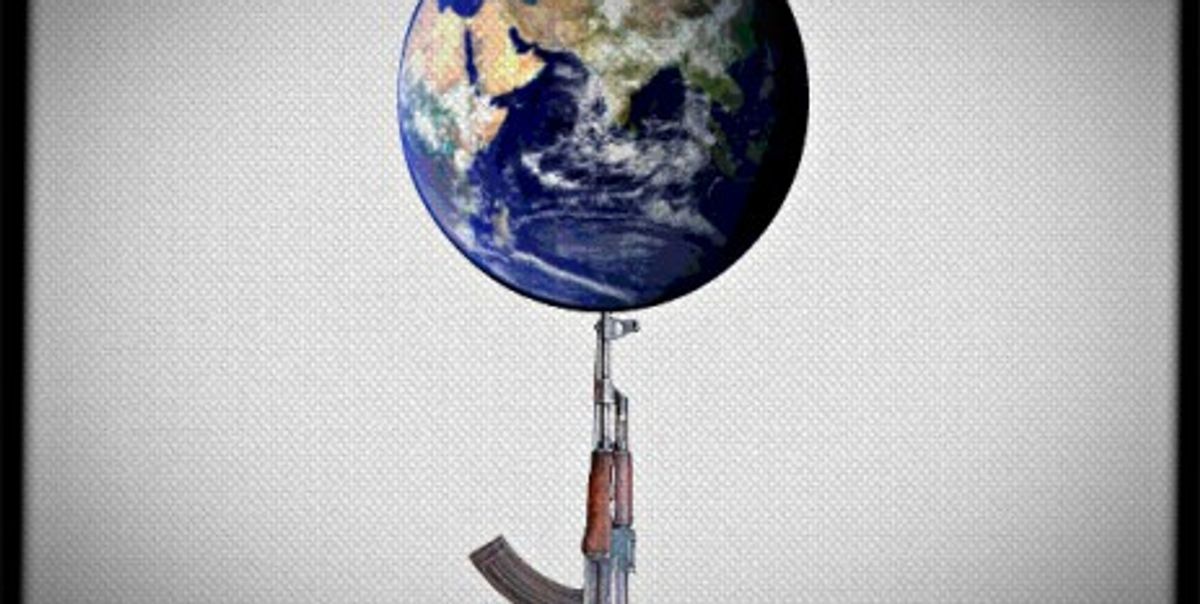 "Hire me, Al-Qaeda" – Seeking the world in vain for a chance in Jihad
PARIS – Behind the armored glass of the court where he was tried for "conspiracy to commit terrorist acts", Ibrahim O. seemed perfectly calm, insolent, cool.
"I came only to please my lawyer," said the 26-year-old Franco-Malian, smiling under his thin mustache. "Give me 10 years. I will take them with a big smile. Prison means vacation for me.
In February, during his 10-day trial, Ibrahim O. confessed everything, while smiling. If he could, he would have said more. Yes, he lives according to "the laws of Allah, not those of the Republic". Yes, he is the "jihad globetrotter" described by prosecutors, always ready to leave for the land of Islam and, if necessary, to fight against France, this "land of blasphemy". Yes, for a long time he tried to recruit other "brothers" to fight the infidels.
Now imprisoned, Ibrahim O. pursues his own jihad. "Last month, he was sentenced to four additional months in prison for trying to instigate a riot" where he was imprisoned at the gates of Paris, revealed an anti-terrorist police officer following him closely. "We had to move so that he didn't bother everyone."
He failed at soccer, so he turned to the Quran
Ibrahim O. was born in Aubervilliers, a town on the northern outskirts of Paris, to a Malian mother and an unknown father. When he was two and a half years old, he was placed in a public institution because his mother had beaten him. He has always lived in such places: one shelter after another, always with their austere bedrooms and noisy dining rooms. He was confronted with a dysfunctional family – a mother convicted of violence and four siblings, all born to different fathers.
As a young boy, he dreamed of becoming a professional footballer. His sister lived in Italy, where he trained in professional clubs. "But it didn't work," he told authorities. "I was very disappointed." He failed at football, and he wasn't very interested in his professional qualification as a locksmith, so he turned to the Quran.
At 16, the young man converted. "I needed to find meaning in my life. It was Islam. A Muslim gave me the Koran. I read it. I liked it, "he told prosecutors.
Ibrahim has become a staple of the Omar Mosque in Paris, which was a haven for fundamentalists. The then imam (who has since been expelled) was a deeply anti-Semitic Tunisian who advocated that adulterous women be flogged to death.
From Cairo to Yemen, via Sudan
Ibrahim dropped out of school and religiously married a devout Muslim. In the spring of 2007, when he was 19, it was time for the hijra, or the return to the land of Islam. His goal at the time was only to improve his Arabic and learn more about his adopted religion. He left for Cairo first, then traveled to Khartoum, Sudan, before being directed to Yemen.
There, he was told about a Koranic school where it was possible to eat and study for free. The place is called Da'wah Salafyyah, and it is an Islamic center for francophones located in northern Yemen. "One of the main training centers for French jihadists," explains an officer from the French intelligence services. "Several of them have already died in inter-ethnic clashes."
Ibrahim was not yet a fighter at heart. Back in Paris after six months of travel, he returns to live with his mother, forces himself to do odd jobs and tries to resume football. He wandered in the religious libraries, where, disappointed, he found only "books on ablution and marriage".
"The disbelievers" who opened their eyes
But Ibrahim was not a contemplative man. He was eager to act. At the end of 2008, he traveled to Birmingham, England, where there is a large community of British Salafists. "The brothers just paid for the hotel for me for three days, then they asked me to leave," he recalls.
But that didn't deter him. Less than six months later, just after the birth of his first child, Ibrahim flew to Yemen. Two "brothers" from the Omar mosque, men with beards who frightened the Yemeni authorities, accompanied him.
As soon as they arrived in Sanaa, the three young men were arrested and sent back to France. "This expulsion hurt me very badly," he admits. "I couldn't understand why a Muslim country rejected me. Ibrahim therefore sank deeper into radicalism. At home, he began to forbid his wife to watch TV and go out without his permission. He developed a very personal idea of ​​the company.
"Democracy is against Islam," he said. "On the religious level, I cannot live in France. The Muslims who stay here live in sin.
One day, he left for the French Riviera, "on a whim, like when I was a kid and I ran away," he told the court. He worked for a while in a kebab in Cannes, remarried religiously to a young woman of Comorian origin and met other Islamists before finally switching to radicalism. He was 22 years old. "It was there, in the south, that I discovered the need for jihad. Armed jihad, that is to say. For that he needed money.
At the start of 2010, he found a job as a mediator at the town hall of Paris for 675 euros per month. Living in an emergency youth shelter, he saved up to buy a one-way ticket to Pakistan. Destination: Peshawar, the entrance to Waziristan, al-Qaida sanctuary.
"You can't stay here, because you are black"
The jihadist novice had no connection there. As in England, Ibrahim was driven back to Yemen as soon as he set foot in the first mosque he saw. "The brothers got angry when they saw me. I tried to tell them that Allah had shown me the way to reach them, but they were really suspicious. They thought I was a spy.
Finally, in one of the city's madrasas, he meets a Belgian jihadist who talks about the prospect of a training camp in Waziristan. Ibrahim was delighted.
"If you die a martyr, the blood flowing down your side smells of musk," he said. "At the first drop of blood that falls, all sins are washed away."
In fact, his new jihadist friend was mainly looking to get rid of this disturbing Frenchman of Malian origin. "He said to me, 'You can't stay here, because you're black.' It's true that everyone kept looking at me strangely in Peshawar. Ibrahim ended up being caught phoning in France, which was forbidden, and was ordered to leave.
It was yet another failure in his holy war. According to the anti-terrorism prosecutor, the young man was "passionate about jihad when it suited him." Its only purpose is to fight on a battlefield, wherever it is. Which was not quite true. Quite shaken by his misfortune in Pakistan, the jihad globetrotter has become very selective. "I was done with the black-free zones," he said. "For me, then, it was either Somalia or Yemen."
Arrested in Cairo, imprisoned in France
The DCRI, the French intelligence agency, now had its eye on this wanderer of the holy war. This did not prevent him from derogating from the French police and from flying to Egypt in September 2010. At the request of the French authorities, he was arrested in Cairo and imprisoned on his return to Paris airport. Roissy.
"The decision was taken to arrest him because, on wiretaps, he spoke of assassinating Dalil Boubakeur, the rector of the mosque in Paris," said a member of the French secret service.
In reality, the plan was vague, but it earned him a long prison sentence. Released on condition in July 2012, Ibrahim O. seems to have calmed down. But three months later, when he heard from the French president Speech by François Hollande in Dakar, his jihadist heart swelled.
"Hollande justified his intervention in Mali," he told the authorities. "I was outraged. I am for the law of Allah, so I will always be on the side of my brothers, with them. What was happening in Mali was not the business of the French.
With a false passport, he boarded a flight to Bamako, via Lisbon. On November 6, Ibrahim O. was arrested by Malian police in Sévaré while trying to join the ranks of al-Qaida in the Islamic Maghreb in Timbuktu.
"Brothers in Allah"
During his return trial in Paris, the prosecutor requested a sentence of seven years in prison. Ibrahim O. did not even attempt to defend himself, opposing his lawyer before the defense speeches. He was especially interested in the audience hall, where his "brothers in Allah" were seated.
There was Bilel, who was recently convicted of assaulting a 60-year-old man taking pictures of veiled women. There was also Nicolas, the convert, who "never shakes hands with women" and seemed embarrassed to admit before the judges that he "had been afraid" of leaving for jihad.
Today, Ibrahim O. poses no threat. He is in solitary confinement at the Nanterre remand center. But soon he will be able to preach the way of Allah again because there is no shortage of "brothers" in prison.
In the meantime, he is calm. The failed fighter who has been turned away so many times has finally found his place. "I don't want to get out of prison," he told his prosecutor in 2011. "I feel good here. I am learning my religion. If I went out today, I would be lost.