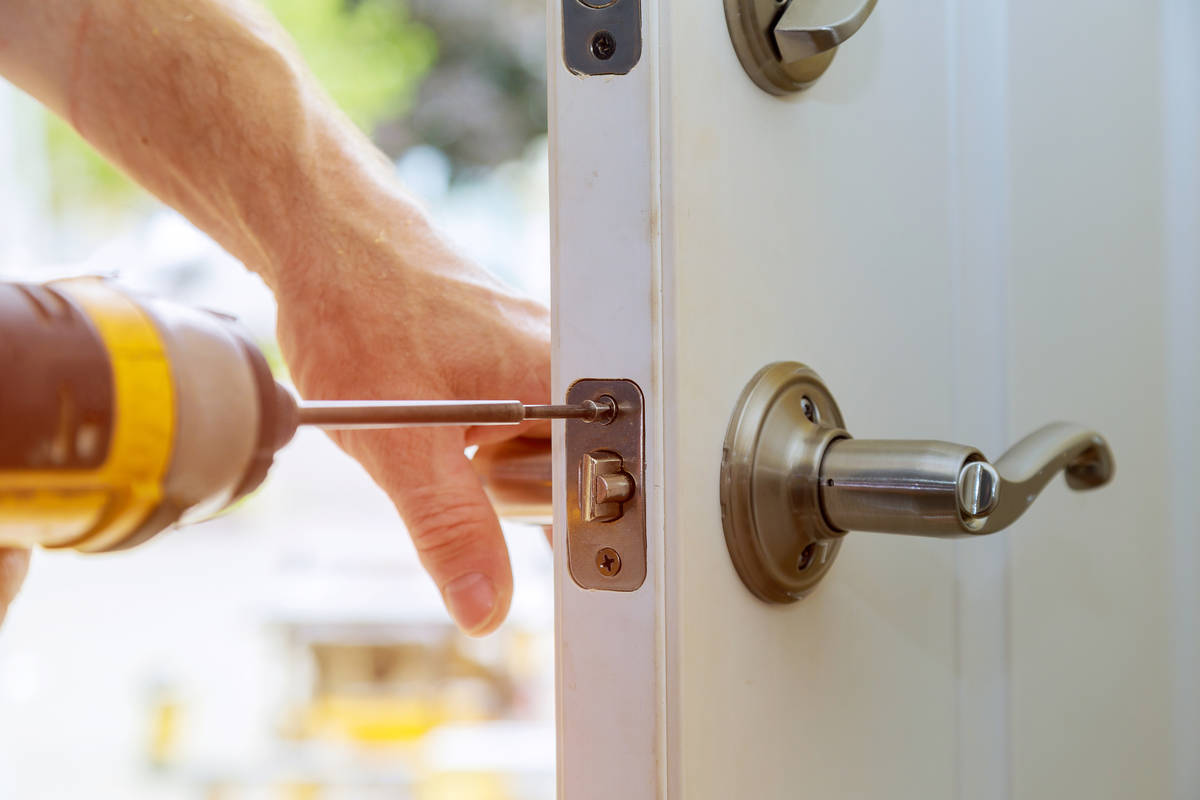 Experts offer advice to secure your home
Today, news headlines covering rising crime rates are increasingly common in Las Vegas and pretty much every other metropolitan area. With this, homeowners may begin to wonder if there are ways to improve the safety of their biggest investment.
The good news is that there are a number of things you can do to keep your home safe and less desirable to any intruder or potential burglar without breaking the bank. Here, the experts share some simple, inexpensive home security tips that don't require a lot of effort or money to implement.
Start with doors and windows
Improving the security of your home begins with fortifying your front door. We all hear about the importance of having a quality deadbolt lock, but there is a little more to understand when it comes to the quality of all of the door lock components.
The point of failure of a lock is usually the strike or the small piece of metal screwed into the door frame that the real bolt of your deadbolt fits into. Often this plate is held in place by two short screws only an inch long, sometimes even shorter. A strong kick on the door can cause the plate to fail for easy entry into the house.
Invest in a stronger strike that requires four or six screws to anchor it. Then buy 3-inch screws to anchor the plate, says Chris McGoey, an expert crime witness from Southern California who has analyzed thousands of crime scenes for homeowners and businesses.
"These 3 inch wood screws can make all the difference in the world," he said.
Strengthening windows is also important, said Mike Johnston, chief security advisor for Boss Security Screens, a Las Vegas Valley-based window covering manufacturer. Johnston is also a former captain of the Henderson Police Department.
In addition to a quality lock and strike, it encourages homeowners to place a wood or metal bar in all sliding glass doors and windows. If you're on a bigger budget, security window coverings are a deterrent too.
"Problem # 1 is, you don't want to make it easy for anyone to access the house," Johnston pointed out.
Landscaping with a focus on crime prevention
Johnston is certified in Crime Prevention by Environmental Design by the National Institute of Crime Prevention. CPTED was created to integrate crime prevention into the landscaping process. One of the key elements of CPTED is what Johnston calls the "2ft 6ft rule" which means that shrubs should not exceed 2ft above the ground and tree canopies should not hang down unless 6 feet.
"If you start looking at the landscaping you see how some people can invite thieves in because you have so much cover and you are hidden so the neighbors cannot see what is going on", a- he declared.
Thorny bushes like roses near trails can also be a deterrent, said Dak Kopec, associate professor at the UNLV School of Architecture. Larger rocks in desert landscaping, although they add heat gain, are difficult to walk through and are a good safety choice.
Assess what passers-by are seeing
McGoey says it's important not to leave any visual draws for anyone wrapping around the area. One of these can be to simply leave your garage door open for long periods of time during the day. In these cases, the garage door to the house is usually also unlocked. Even windows open to the front of the house can be a draw.
"I've read thousands of police reports, and a lot of invasions happen with people just walking into an unlocked door," McGoey said. "Get into the habit of not leaving the garage door open longer than it takes to use it, and open windows visible from the street shouldn't be the first choice for ventilating the house.
He also says that flyers or newspapers stacked near the door can be a sign that no one is home. And if someone leaves a porch light on all day and doesn't have it on a timer to turn it off during daylight hours, that can also attract thieves.
At the same time, making your home look like an activity can deter an intruder. When you're at home, opening the blinds so people can see you moving inside during the day is a good practice, Kopec noted.
Security plans, technology
After you secure the access points, some homeowners create a comprehensive home security plan. This can include making sure the house is well-lit, alternating lighting schedules, installing doorbells like the Ring system, which has cameras and allows you to see who is at the front door. on your phone, and even add a popular Google Nest wireless security system or home alarm service.
It's important to think of these strategies as "layers" that complement each other, Johnston said, and even the best technology only serves you well if you use it correctly and maintain it. A maintenance plan can include:
Regularly prune trees and shrubs to make sure your home is visible from the street.
Regularly test alarm systems and technological components.
Have a control system in place when you leave the house for windows, doors and systems.
"If you don't have maintenance the yard can become overgrown, the cameras fail, all of that weakens your security plan," Johnston added.
McGoey also recommends taking pictures of the items and keeping them, along with the receipts, in the same place so that in the event of a burglary, you can correctly identify the stolen items. Experts have come up with several other simple practices to help you with your home security plan.
Do not open the door until you have looked through the peephole or confirmed that you know who is on the other side.
Talk to your kids about potential scenarios and what to do if something goes wrong. They know what to do during a school fire drill and they have heard of an alien danger. They should know how to call 911 if anything looks suspicious.
Meet your neighbors. Share the schedules and take advantage of the opportunities to water the plants and take care of each other when one of you is out of town.
Share information about the vendors you use with your neighbors so everyone can stay alert for suspicious vehicles in the area.
If you have an electronic lock that requires a code on your front door, change it every six months, Kopec added. Keeping the same code can leave a trace of wear and tear and allow someone to guess which code to enter.
And finally, be honest about the condition of your neighborhood. If crime is on the rise and your hunch is that the situation might not get better, maybe it's time to move on, McGoey said.
"The best deterrent is buying a house in a zip code where you know there is less crime," he added.