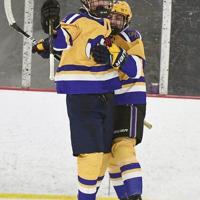 After helping turn Lock/NF hockey around, lifelong teammates Ceccato, Robins near finish line | Sports
Matt Ceccato and Aidan Robins are a Niagara County hockey institution.
The two played some 600 games together, teammates in six different programs over more than 12 years. Ever since they first laced them, they've sported the same colors.
The end of their race is fast approaching.
Ceccato and Robins are seniors at Niagara Falls High School and on the Lockport/NF federation hockey team, which is the No. 5 seed in the Division VI playoffs and plays a quarter-final tonight against No. 4 Clarence. A loss would end the program's best season since combining four years ago and close the book on Ceccato and Robins teaming up in competitive hockey.
Safe to say the two aren't planning to make things any easier for the Red Devils.
"This is potentially the last practice of my career, and it kinda hit me driving on the bus," Robins said ahead of Wednesday's practice at Cornerstone CFCU Arena. "And then the game tomorrow and hopefully a few more games after that, those are definitely going to leave it all on the ice because I don't know if I'm going to be able to have another time to be here."
"That's it," added Ceccato. "So having that mindset of leaving it all on the ice, giving it all for Aidan and those guys, that's all I was thinking about."
Ceccato and Robins first teamed up when they were 4 years old. They played with the Niagara Jr. Purple Eagles and the Bud Bakewell Ice Hawks, which became the Power City Bruins. When it came time to play academically, Niagara Falls had no modified curriculum or JV, so they joined a combined Tonawanda/North Tonawanda team in eighth grade and Wilson/Newfane in first grade.
They made two trips to the states in those years before earning their spot on the Lockport/NF federation team as a sophomore. But the program was essentially starting from scratch, fresh from an inaugural combined season when the schools' long rivalry and a 1-17 record sometimes led to clashes.
Ceccato credits his first-team seniors with sparking a turnaround. Lock/NF quadrupled their win total.
"When we arrived here, a few former seniors were very welcoming," Ceccato said. "They knew we were going to step up and help lead this team to success, so they really took us under their wing."
A year later, Ceccato and Robins were the frontrunners, taking the roles of captain and assistant respectively, which they filled again this season. A young team once again finished with four wins but set the stage for this winter's 8-8-0-1 record.
Ceccato and Robins – along with Lockport's trio of assistant captains, senior keeper Aden Benson and juniors Christian and Nicholas Anzalone – helped Lock/NF gain respect. Robins, a forward, tied for the team lead with 22 points and was first on the team and tied for fourth in the Niagara Frontier League with 14 goals. He led the NFL with 3 tying goals and 3 game-winning goals. Ceccato's 11 assists are tied for second on the team and his 16 points are tied for second among NFL defensemen.
"They're good hockey players and good captains," said Lou Jacklin of Niagara Falls, the team's co-coach with Erik Musto of Lockport. "Hockey is a real team game. … It's because of them that we have half the wins. We have very good players, but in hockey, if you don't have a very good leadership, you don't get those wins."
Many of those victories were milestones. Playing an NFL schedule after the federation realigned in the offseason, Lock/NF picked up victories over Niagara Wheatfield, Lewiston-Porter and Kenmore West, all programs he had never beaten. He played a pair of one-goal losses with NFL title-winning Grand Island.
"Aidan was really upset after GI's second loss, and I said, 'But we're in these games now. It's a testament to what you've done,'" Jacklin said.
"I feel like we've laid the groundwork by being here for three years and leading the way to being more successful each year," Robins said. "Hopefully that will continue and lead to stronger teams for Lockport/Niagara Falls in the future."
If Clarence (11-6-2) is the end of the line, Ceccato and Robins will leave Lock/NF better than when they found him. They are two of four seniors on the team, along with Benson and teammate Caleb Meteer.
And both will be fine. Both have averages over 95, play multiple sports, and compete in NFHS Unified Sports. Ceccato is going to attend Niagara University to study sports management while Robins is still waiting to hear from a few schools, including the Ivy League.
Tonight's game is scheduled for 6 p.m. at the Northtown Center. Section VI has gone fully digital for ticketing, meaning any fans wishing to attend will need to visit gofan.co/app/school/NYSHSAAVI and purchase in advance.