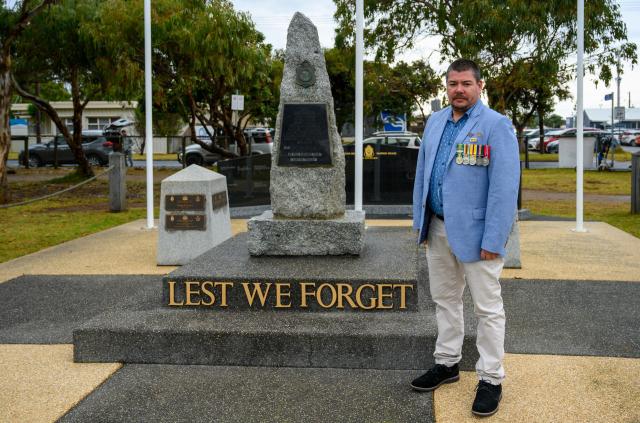 A twist of fate leads Chris to the RAAF
Chris Laux was doing a sheet metal apprenticeship when a twist of fate led him to a career in the Royal Australian Air Force and then to an early retirement. He speaks with Justin Flynn ahead of Anzac Day.
It was by pure chance that Chris Laux started a career in the Royal Australian Air Force more than 20 years ago.
After leaving Bellarine Secondary College, he completed a sheet metal apprenticeship in Melbourne in 1997.
Fast forward to 2000 and Chris found himself making the handrails for the completion of Colonial Stadium (now Marvel Stadium).
"At the time, the AFL wanted the pitch ready in time for the 2000 season and the unions wanted the 36-hour week, so we went on strike for six months and had a union meeting in the former Savoy Hotel on the corner of Spencer and Bourke streets," says Chris.
"Defense Force Plaza was right next door. So at one of the meetings we were told that we were still on strike and that I was a 19 year old kid and had still learned to save for a rainy day so such a long strike was very painful, and I walked into Defense Force Plaza next door and said 'those are my qualifications, what can I do?'.
"They said you could be a tank armourer in the army, a boilermaker in the navy or an aircraft sheet metal worker in the RAAF. I was already a sheet metal worker, so this seemed like a good option.
Over the next 10 years, Chris was deployed to the Middle East and Asia and participated in the 2004 tsunami and the repatriation of injured and dead from the 2002 Bali bombings.
"It was awful," Chris says.
"I vividly remember saying the world was a peaceful place and a good time to have a career and I got my call on 9/11, 2001 and the world was no longer a peaceful place."
However, Chris' military career came to an abrupt end in Dubai in 2010 when he contracted Clostridium difficile, a debilitating bacterial infection that releases toxins that irritate and attack the lining of the intestines.
"It felt a lot like gastro, but after about four weeks my body started to shut down and I ended up in intensive care and that was the end of my military career," he said.
"In the past 10 years, I've spent about two in the hospital. He sleeps then attacks. If I start to get sick from it, I find myself again in the hospital for three or four months, then there are months of rehabilitation.
An oddity of being in the military was that about 10 of Chris' other students at Bellarine Secondary College, either the same year, lower year, or upper year, ended up serving as well.
"People thought we were in the defense force because of something we were taught in school, but it was just a coincidence," he said.
Chris's grandfather was also a veteran and he said walking with him on Anzac Day was probably the proudest of him. The Wall of Honor behind the Ocean Grove Park Cenotaph bears the name of Chris and his grandfather and he encourages all local veterans to contact the Ocean Grove Barwon Heads RSL Sub-Branch to have their own name engraved. .
"I walked with my grandfather several times at Barwon Heads – he was my idol," he said.
"It was always paying homage to the old Diggers. It never really clicked that you were a veteran as well.
"As I grew old with the death of almost every [World War II] veterinarians, time doesn't really stand still for anyone. Now it's up to the younger veterans to step in and save the RSL.
"It should no longer depend on the 75s and 80s. Now is the time for young veterans to step up and say "this is our organization".
Chris' Anzac Day ritual each year is generally the same.
"I usually go to Fort Queenscliff and do the dawn service there, then do the march here in Ocean Grove," he says.
"Then hang out and chat with some of the old boys and meet some old faces."
Chris recently raised approximately $1,500 by participating in the March On challenge for Soldier On.
The goal was to walk 96 kilometers in March for a charity that helps young veterans, but Chris managed 336 km.
"Veteran suicide is a huge problem," he says.
"We have lost so many young veterans who come out of service and feel lost.