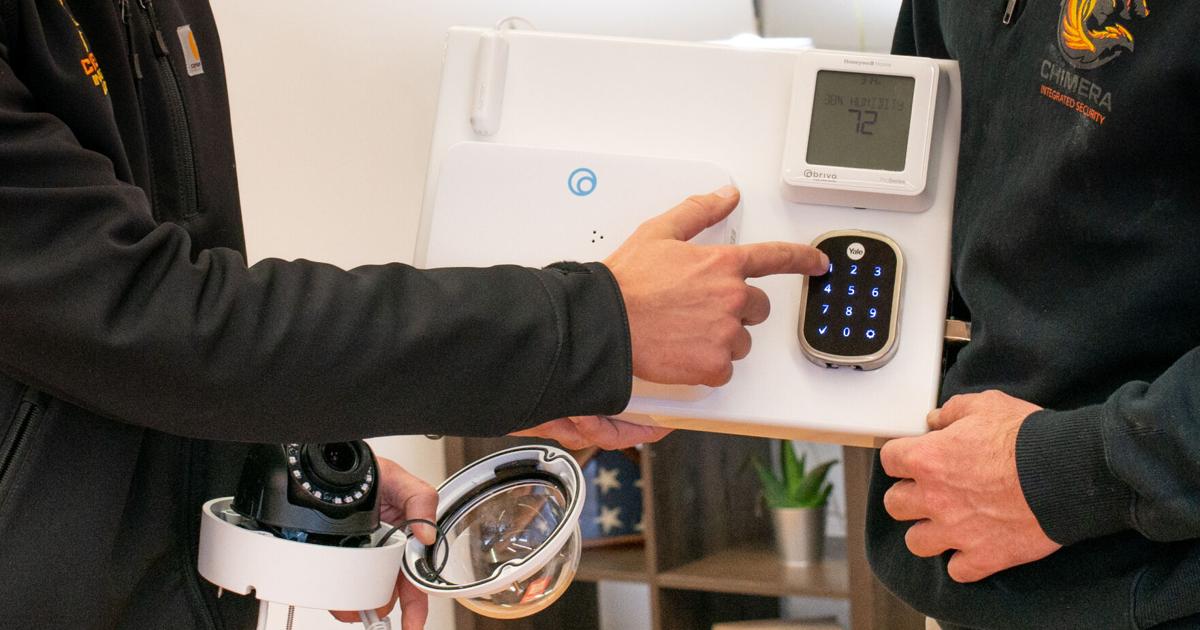 A Secure Business Plan: Chimera Integrations talks about the future of security | News
PLATTSBURGH – Greatness can only be achieved when the heads of many function as one body.
That's the tagline of Syracuse-based tech company Chimera Integrations, which brought its services to the North Country last summer.
The company bought Mac's Safe and Lock in August and moved into the space, located at 373 Route 3 in the city of Plattsburgh.
THE FUTURE OF
'SECURITY CAMERAS'
Chimera Integrations, including its Plattsburgh office, has five offices across the state that they believe are working to move New York into a whole new world of smart technology and security.
A world where camera systems will remember faces, license plates, heat maps, and even analyze audio to detect specific noises like gunshots, screams, and broken glass.
Justin Stearns, innovation specialist at Chimera Integrations' Plattsburgh site, said upstate New York, in general, is about 10 years behind big cities like New York, as well as the rest of the country, when it comes to smart technology.
"It's really our mission to bring all of our communities to that standard of living," Stearns said.
"There is something happening with Chimera that is ridiculously exciting and undeniable, to be at the forefront of this technological evolution and to actually see the change that we are affecting in our communities."
SECURITY IN HIS BLOOD
Stearns, who previously owned Mac's Safe and Lock from 2010 to 2018, had worked in the locksmith and security business for most of his life before teaming up with Chimera Integrations.
"It's kind of in my blood," Stearns said.
"My dad was a locksmith and owned an alarm business in the 90s. I bought it out in 2010 and before that I broke safes for the Colorado Department of Defense. I worked for a large security company in Florida, and I also worked for an alarm integrator in Albany.
Since Stearns entered the security and technology industry, it has evolved rapidly.
Although Chimera still offers the traditional services of a regular locksmith like Mac's Safe and Lock once did, it has expanded its available products and services to help the community in more important ways, Stearns said.
"At Mac's, we did card access control, safes and vaults, and door hardware," he said.
"With Chimera, we helped an alcohol distribution warehouse where alcohol was stolen all the time. We trained the cameras with AI (artificial intelligence), that if a human with a box or a backpack walks up to a door it automatically locks the door and notifies the supervisor Which is crazy and it's a fine line between big brother and ethical safety but we don't cross that line we are very conscientious.
MOM AND POP SHOPS
Beyond stopping potential thefts, Chimera's camera systems also help retail stores learn more about their business and customers through heatmap analysis.
Heat from a human body appears on the camera, and they can tell where shoppers have walked.
"I pressed this button here, and it shows me heat maps. I can do this for people and it will show me the traffic flow, so I can study the traffic flow in a small retail business , so I know if people aren't paying attention to my postings," Stearns said.
"For little mommies and pops, who are obviously a big part of our community, we can help them elevate their business without them really having to do anything."
In addition to their camera systems, Chimera offers thousands of products to help commercial, industrial, retail and municipal sites around the city, such as professional loudspeakers, temperature monitoring stations, systems visitor management and smart water meters.
SMART APARTMENTS
The company has also helped transform ordinary apartments into smart apartments through the use of their smart apartment technology.
"I can control the locks, the leak detection, the water shut-off valves, that light, that outlet, all from my phone," Stearns said of the smart tech he put in place. at the Chimera Integrations office.
"Landlords can also use it, so they don't have to meet people to let them into their building and show them around the apartment they want to rent. Because the camera system and the smart apartment are talking, they can be on the phone with the customer, watch them enter the building, unlock door one, unlock door two, and then lock them again behind them.
Chimera Integrations plans to hold a grand opening of its business in late April or early May.
Stearns said Chimera was looking to the future, he had one thing to say.
"We're just getting started."
Email Carly Newton:
Twitter: Carly S Newton